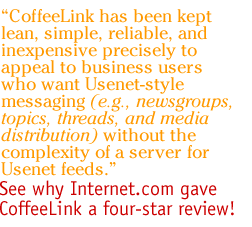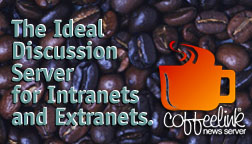 Looking for a way to boost customer loyalty? CoffeeLink Open News Server is the answer!
CoffeeLink Goes Open Source!
Effective August 5, 2001 Burton Computer Corporation has released CoffeeLink Open News Server 1.3, an open source version of its NNTP server, under the terms of the Q Public License (QPL).
The proprietary version, CoffeeLink News Server v1.2 is no longer available for purchase.
CoffeeLink Open News Server can be downloaded, used, and redistributed free of charge as long as the terms of the QPL are adhered to.
Introducing CoffeeLink Open News Server
CoffeeLink Open News Server is an advanced NNTP server for UNIX and Windows NT computers. CoffeeLink News Server includes many powerful features to make it the ideal discussion server for businesses, organizations, and individuals:
Portability. CoffeeLink Open News Server is written entirely in Java, allowing it to run on any computer with a JDK 1.1 or 1.2 compatible Java Virtual Machine.
Reliability. CoffeeLink News Server is designed to serve news clients 24 hours per day, seven days per week with minimal down time. In addition, sophisticated techniques are used to protect the integrity of news messages in the event of an operating system crash.
Flexibility. CoffeeLink News Server uses a flexible authorization model that makes it easy to control access to news groups for specific individuals or groups of individuals.
Simplicity. CoffeeLink News Server is easy to install and configure. There's no need to edit configuration files or fiddle with environment variables. You can configure your server from any computer on your network with an easy to use Java application.
Compatibility. CoffeeLink News Server supports the latest draft NNTP standard as well as a number of standard extensions to provide compatibility with existing news clients. Your users can select from a variety of news clients including Netscape Communicator, Microsoft Outlook Express, and many freeware clients.
Affordability. Unlike other, more expensive, news servers which charge based on number of simultaneous connections, CoffeeLink News Server charges no per-user license fees. If your computer has the muscle to serve 1000 clients simultaneously that's your business. BCC doesn't impose the artificial limits our competitors are so fond of.

Increase Internal Communication
Looking for a way to improve communication within your organization? CoffeeLink News Server is the answer! Use CoffeeLink News Server to set up as many newsgroups as needed to allow your employees to discuss ongoing projects. Or create newsgroups to post company wide announcements such as employee benefits information, new policy announcements, etc.
With Coffeelink News Server employees can post and read messages using their existing news clients (Outlook Express, Netscape Messenger, etc) from anywhere in your organization or anywhere in the world if your server is on the internet. Does your company allow employees to work from home? With newsgroups telecommuters have instant access to messages from home or the office.
Newsgroups are an excellent alternative to email mailing lists for internal discussion. Newsgroup postings are centralized at the server and available to anyone. Newsgroup postings can include attached images, documents, or other information that needs to be shared by a large number of people, without taking up disk space on every user's disk drive.
Coffeelink News Server also allows access to newsgroups to be limited to only certain users. For example, access to a newsgroup for a project can be restricted to only those employees assigned to that project. Or an announcement newsgroup can be set up with unrestricted read access to everyone but with only certain individuals allowed to post to that newsgroup.

Improve Communication With Customers
Looking for a way to build customer loyalty? CoffeeLink News Server is the answer! People love to communicate. They enjoy discussing topics with others who share a common interest. Web sites are great for making the initial contact with a customer. But to build customer loyalty, companies need to build a thriving online community.
Many companies use email based mailing lists to build this sense of community. Mailing lists are easy because customers already know how to use email. But mailing lists ultimately fail because they fill each customer's in box with constant chatter. If you build a high traffic mailing list many customers will unsubscribe to clear out their in boxes! Web based forums are easy because they operate entirely in the browser. But most have primitive interfaces and require customers to learn how to use them.
CoffeeLink News Server is an ideal way to build an online community of loyal customers. Discussion groups in CoffeeLink News Server can be created and managed easily. Customers can read and post to groups using the same powerful news software that they use for Usenet news groups. There's no negative impact to your customer no matter how heavy traffic is in your discussion groups. There's no need to fear a spammer flooding your mailing list with junk email. And customers don't need to subscribe or unsubscribe. A simple link on your web site can bring most customers to your discussion groups with a single click!

System Requirements
A Java Virtual Machine (JVM) is required to install and run CoffeeLink News Server. Solaris 2.6 includes a preinstalled JVM. For other operating systems a JVM must be installed separately.
In addition to a JVM, you must have the Swing classes installed in your classpath. JDK 1.2 and above include the swing classes. JDK 1. requires that the swing classes be installed separately.
We expect CoffeeLink Open News Server to run correctly on any platform supporting a JDK 1.1.x or 1.2.x compatible JVM. However, BCC cannot possibly support all configurations. These are the configurations we currently support:
| | |
| --- | --- |
| Operating System | Virtual Machine |
| Solaris SPARC 2.6 | Sun JRE 1.1.8 or higher |
| Solaris x86 2.6 | Sun JRE 1.1.8 or higher |
| Windows NT 4.0sp3 | Sun JRE 1.1.8 or higher |
| Windows NT 4.0sp3 | IBM JRE 1.1.8 or higher |
| RedHat Linux 6.1 | IBM JRE 1.1.8 or higher |
| RedHat Linux 6.1 | Sun JRE 1.2.2 or higher |

How can I obtain CoffeeLink Open News Server?
CoffeeLink Open News Server is available for free download on our web site. Click one of the links below to download the program.
Distribution and use of CoffeeLink Open News Server is governed by the license agreement.

How can I obtain support for CoffeeLink Open News Server?
CoffeeLink Open News Server is not officially supported by Burton Computer Corporation. Support contracts and/or commercial binary versions with easier installation and some support may become available in the future if there is sufficient demand.
In the meantime you are welcome to post questions, suggestions, bug reports, and enhancement requests to the CoffeeLink Open News Server discussion group.
news://news.burton-
computer.com/public.bcc.clnews
You may also email suggestions and bug reports to support@burton-computer.com.